Brazil: 28 people still missing after deadly dam burst
Comments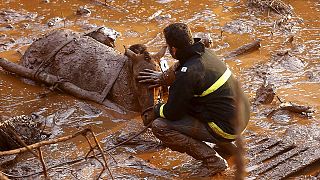 Search and rescue operations were underway in southeastern Brazil over the weekend to find 28 people still missing and feared dead after two dams at a mine burst and unleashed a massive mudflow on Thursday.
I heard 'run, run, the dam has burst'
Villages downstream from the dams were engulfed with sludge. Residents who ran for higher ground could see their homes swept away.
PHOTOS: Aerial shots of dam burst in Brazil (Via InfoEmerg</a>) <a href="https://t.co/GtqE0ItpAS">https://t.co/GtqE0ItpAS</a> <a href="https://t.co/QOfBz9c3Fz">pic.twitter.com/QOfBz9c3Fz</a></p>&mdash; RT (RT_com) November 5, 2015
Two deaths have been reported so far, but authorities say the toll is expected to rise.
More than 500 residents of the village of Bento Rodrigues have been sheltered in hotels nearby. Among them, the Da Silva family remembers hearing a deafening "clap" before a sea of mud came cascading through the village.
"I heard 'run, run, the dam has burst.' Everybody was really nervous and we ran and left our backpacks behind, and got onto the bus that took us to the church up on the hill," young Livia da Silva recalls.
All their expenses are covered by Samarco, the operator of the iron ore mine where the dams were undergoing work. It's not clear what caused them to burst.
Samarco has played down fears that toxic residues in the mud could pose risks to health or the environment.
See the terrifying aftermath of a dam burst in Brazil
Will #BHP be accountable for this
Community gone
https://t.co/Qn8CFOMFa2 via TIMEWorld

— Paul Dutton (@pauldutton1968) November 6, 2015