Dam bursts kills several people in southeastern Brazil
Comments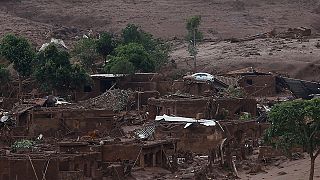 Collapsed dams at mine in southeastern Brazil have killed at least two people, with more than dozen people believed to be missing.
A flood of slurry from an iron ore mine engulfed houses and vehicles in and around the village of Bento Rodrigues, in the state of Minas Gerais, on Thursday.
The mine is managed by Samarco, a joint venture between Portugal's Vale and Australian mining giant BHP Billiton.
The spill did not contain any toxic material, Samarco President Ricardo Vescovi said on Friday.
Hundreds of people who had to flee their homes were on Friday staying at a gymnasium in Bento Rodrigues, which had been converted into a temporary shelter.
Officials have said two people were killed, four injured and 13 were missing. Local media are reporting higher numbers.
Heavy rains were hampering salvage efforts, with rescue teams continuing to search for people who might have been swept away or stranded.