Adidas optimistic about 2016 though still trails Nike
Comments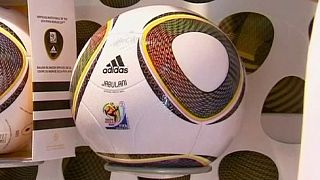 German sportswear company Adidas says it expects sales and net profit to keep rising fast this year helped by aggressive marketing and big events like the European and Copa America football tournaments and the Olympics.
Our brands are set to shine at this year's major sporting events
Adidas reported sales rose 15 percent in the final three months of last year to 4.167 billion euros when it narrowed losses to 44 million euros.
The company is making a comeback after losing ground to larger US rival Nike..
Adidas has fallen into third place in the key US market behind Nike and fast-growing Under Armour and seen Nike threaten its dominance in football and western Europe.
In response, Adidas has closed stores in Russia and boosted its marketing spending, particularly in US sports. Recent coups include replacing Nike as a kit supplier to football clubs including Manchester United.
#adidas football reports most successful year ever in '15 with sales record of over EUR 2.2 billion #bethedifferencepic.twitter.com/ygkDYYS8Z1

— Katja Schreiber (@KatjaSchreiber) 3 March 2016
Outgoing chief executive Herbert Hainer, who leaves in October, said he expects another year of double-digit growth in western Europe and North America, as well as in greater China in 2016.
"Our order books are full across all major performance and lifestyle categories. And our brands are set to shine at this year's major sporting events," Hainer said.