11-year old hits hole-in-one at Woods' course
Comments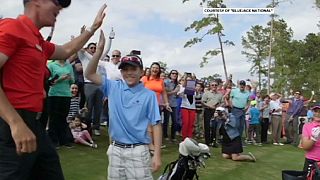 A hole in one is a very rare occurance for an amateur golfer.
In fact according to the national hole-in-one association the odds of hitting an ace is 12 500 to one, so many players never get to experience the euphoria that comes with this feat.
Not the case for 11-year old Taylor Crozier, who became the first person to hit a hole-in-one on Tiger Woods' golf course at Bluejack National in Montgomery, Texas.
Not only did Crozier do it with the first ever shot to be played at the par 3, 81 yard hole, he did it in front of a sizeable crowd that included the man himself, Tiger Woods.
Fortunately for Crozier he's too young to buy the traditional hole-in-one round of drinks at the 19th hole.