Spanish unemployment shows slight rise, but underlying numbers stable
Comments
By
Euronews
with
Reuters, El Pais English language version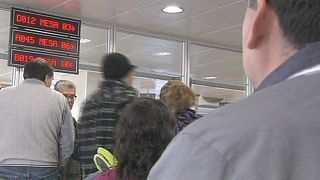 The number of people registering as out of work in Spain rose slightly in February compared with January.
The increase – by 2,231 – brought the total to 4.15 million.
But at the same time the number of registered workers rose to just over 17.17 million, the Labour Ministry said. That was a 0.37 percent increase.
Those were unadjusted figures, not taking seasonal factors into account.
In seasonally adjusted terms, registered jobless fell by 21,959 people in February from a month earlier.
Most of the layoffs were in agriculture, which saw 14,029 fewer people in work.
In other sectors including construction, manufacturing, education and services unemployment fell.
The services sector employed 9,753 additional people, construction saw an increase of 6,724 and the industrial workforce rose by 3,994.
Spain's unemployment total remains high even as the country's economy improves.