NASA spaceman Scott Kelly returns to Earth after record breaking ISS stint
Comments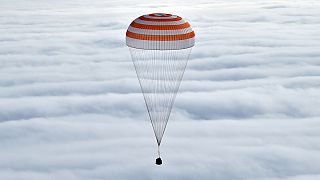 NASA astronaut Scott Kelly and Russian cosmonaut Mikhail Kornienko have arrived back on Earth after nearly a year aboard the International Space Station.
The record-long spaceflight is intended to pave the way for future human travel to Mars.Accompanied by cosmonaut Sergey Volkov the three safely made a parachute landing in Kazakhstan.
'NASA</a> astronaut Scott Kelly touches down after year in space <a href="https://t.co/K4b1q7VtdJ">https://t.co/K4b1q7VtdJ</a> via <a href="https://twitter.com/geekwire">GeekWire

Welcome home, Sir.

— Eddie McClintock (@EddieMcClintock) March 2, 2016
Kelly and Kornienko have been aboard the space station for 340 days, about twice as long as previous crews.
Throughout the year, both men have been the subjects for dozens of medical experiments and science studies designed to learn more about how weightlessness and the high radiation environment of space impact the human body.
Kelly's 340-day mission eclipses the previous US record-long spaceflight of 215 days set by former astronaut Michael Lopez-Alegria aboard the space station in 2007.