UN human rights chief urges Turkey to investigate shooting in Cizre
Comments
By
Euronews
with
Amnesty International, Reuters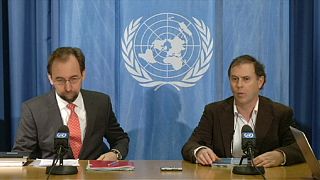 The United Nations' top human rights official has called for an inquiry into the alleged shooting of unarmed civilians by the army in the south east of Turkey.
I am urging the Turkish authorities to respect the fundamental rights of civilians in its security operations.
Ten people were wounded while rescuing those injured in earlier clashes in the predominantly-Kurdish town of Cizre.
In video footage purporting to show the incident, people can be seen waving white flags as they push a cart which appears to carry covered bodies. An armoured vehicle can be seen in the distance.
Zeid Ra'ad al Hussein, the UN's High Commissioner for Human Rights said:
"Today, I am urging the Turkish authorities to respect the fundamental rights of civilians in its security operations and to promptly investigate the alleged shooting of a group of unarmed people in the southeastern town of Cizre."
He acknowledged that Turkey is facing "major difficulties" in the south east as the country's armed forces battle with Kurdish militants. However, he also highlighted that "if state operatives commit human rights violations, they must be prosecuted."
Rights group Amnesty International reports 200,000 people have been put at risk because of security operations in the mainly Kurdish southeast of Turkey. Those affected have been placed in the crossfire, or cut off from basic services, such as water, the group found.
Turkish govt's onslaught on Kurdish towns puts 200,000 people at risk with crippling curfews https://t.co/lBUaIYyAQlpic.twitter.com/5nEaAGUCik

— AmnestyInternational (@AmnestyOnline) January 21, 2016
Right to freedom of expression
Al Hussein also expressed concern over the arrest of the journalist filming the shooting. Refik Tekin was later released pending an investigation into allegations he belongs to the outlawed Kurdistan Workers' Party, which Turkey and a number of western countries consider a terrorist organisation.
"The country has an alarming number of journalists and other media operatives either already convicted or awaiting trial. This raises questions about Turkey's compliance with the right to freedom of expression enshrined in article 19 of the international covenant of Civil and Political rights, which Turkey has ratified," he said.