Real Madrid star Rodriguez fined for driving violation
Comments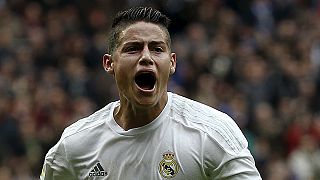 Real Madrid's Colombia international James Rodriguez has been fined almost 10 500 euros for failing to stop for police whilst speeding on New Year's Day.
According to Police the 24-year old – who earns some €7.6m per year – was driving at 200 kilometres an hour, double the speed limit, whilst on his way to a training session with his club on the outskirts of Madrid.
The fine is not for speeding but for refusing to stop when police told him to pull over. Another fine for speeding is expected to be heading Rodriguez's way soon.