Mystery surrounds discovery of 'mummified' German sailor in Philippine seas
Comments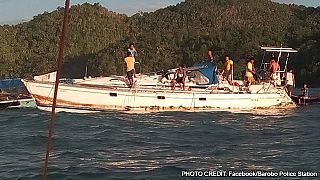 Attention: this story contains an image which some readers may find disturbing
The mummified corpse of a missing German sailor has been found on a yacht
drifting off the southern Philippines coast.
Police say documents on board identified the man as Manfred Fritz Bajorat.
Bajorat, 59, was discovered last Thursday by local fishermen on his 12-metre vessel named "Sajo" near Barobo in Surigao del Sur province. The ship had a broken sail and was partially underwater.
He was slumped in the radio room with one hand near a telephone. Local reports say there was also a letter written to his wife among various other personal items.
Local authorities have posted graphic images on Facebook of the grisly find which appear to show Bajorat's shriveled body.. The salty sea air and high temperatures were apparently responsible for preserving his corpse.
It is unclear what killed him or how long his lifeless body remained on board.
Some reports say the missing adventurer had sailed around the world in the past 20 years.