Fifty shades of Grey officially the worst film of 2015
Comments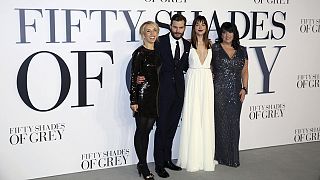 It's official.
"Fifty shades of Grey" and "Fantastic Four" are the worst films to have hit the screen in 2015.
A dead heat for the main category, the two epics took home a combined total of seven Golden
Raspberry awards.
"Fifty Shades" swept the board, winning five awards: worst film, worst actor (Jamie Dornan), worst actress (Dakota Johnson). worst combo (Dornan and Johnson) and worst screenplay.
However, it was not all bad news.
Sylvester Stallone has been given a "Razzie Redeemer" award thanks to his Academy-Award nominated role in Ryan Cooger's "Creed", a spin-off from the Rocky franchise.
The redeemer prize acknowledges previous winners who have gone on to do better work.
What are the Razzie awards?
Officially known as the "Golden Raspberries"
Announced in Los Angeles 24 hours before the Oscars
Given to the worst films and performances
2016 is 36th ceremony
The List of Shame
Worst Picture 2015
Fantastic Four
Fifty Shades of Grey
Worst Actor 2015
Jamie Dornan
Fifty Shades of Grey
Worst Actress 2015
Dakota Johnson
Fifty Shades of Grey

Worst Director 2015
Josh Trank (& Alan Smithee?)
Fantastic Four
Worst Screenplay 2015
Fifty Shades of Grey
Screenplay by Kelly Marcel
Based on the Novel by E.L. James
Worst Supporting Actor 2015
Eddie Redmayne
Jupiter Ascending
Worst Supporting Actress 2015
Kayley Cuoco-Sweeting
Alvin & The Chipmunks: Road Chip [Voice Only]
& The Wedding Ringer

Worst Remake, Rip-Off
Fantastic Four

Worst Screen Combo 2015
Jamie Dornan & Dakota Johnson
Fifty Shades of Grey
Razzie Redeemer Award 2015
Sylvester Stallone, from All-Time Razzie Champ
to 2015 Award Contender for Creed
In tweets
#FiftyShades of Grey and #FantasticFour sweep the #Razzies —-> https://t.co/B5xXVmhNtfpic.twitter.com/wOhgKf90zh

— Rotten Tomatoes (@RottenTomatoes) February 28, 2016
Fantastic Four and Fifty Shades of Grey top the Razzie Awards https://t.co/eEvjHhRrpj#Razziespic.twitter.com/Z5xU1a5Qd2

— ComingSoon.net (@comingsoonnet) February 28, 2016