How British expats can vote in the UK EU referendum
Comments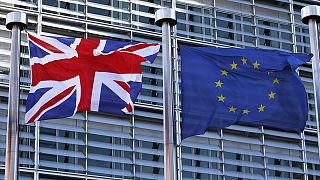 The UK's EU referendum – 3 things
Since 1985, anyone over 18 who has lived abroad for less than 15 years is eligible to vote in British parliamentary and European elections
British citizens living abroad for more than 15 years are automatically disenfranchised.
I am a UK national but I live abroad. Can I vote in the referendum on EU membership this coming June?
Yes, but only if you have not lived abroad for more than 15 years.
The UK government pledged to change what is known as the "15-year-rule" or to "end the disenfranchisement after an arbitrary 15 years of British citizens living abroad" in the Queen's speech to Parliament after the 2015 election (read the details here.).
However, the changes will not apply to the 2016 UK EU referendum, which will be held on June 23rd.
Speaking to Euronews, a British government spokesperson said: "The franchise for the EU referendum is based on the current franchise for UK Parliamentary elections. Currently, British citizens living abroad are entitled to be registered to vote in UK Parliamentary elections as overseas voters for up to 15 years, if they were previously registered to vote in the UK before moving overseas."
"Many British citizens living overseas are already legally eligible to vote. We would encourage them to register online, where it only takes a few minutes, so they can participate in the upcoming Referendum."
Why is the law being amended?
A 2014 government report found there is "significant under-registration of eligible British voters living abroad."
The British government told Euronews: "The government believes expats should retain their right to vote as long as they remain citizens, and we will legislate to scrap the current arbitrary 15-year time limit as soon as parliamentary time allows."
"Given the available time between now and 23 June, we do not, however, expect the Bill to have completed its passage and be fully implemented in time for the referendum."
So what arrangements do I need to make so that I can vote?
All the details can be found here
You must be on the UK electoral roll to be able to register.
You will need your national insurance number and passport.
"Expats who were previously registered to vote at an address in England, Wales or Scotland can apply online to register to vote as an overseas elector. They should go online to register here. ", said the UK government spokesperson.
"Alternatively, they can download an overseas voter's registration form
"Voters previously registered in Northern Ireland should download an overseas voter application from, the website for the Electoral Office for Northern Ireland."
There are more than a million foreign nationals living in the UK. Will they be allowed to vote in the referendum?
No.
Only British, Irish and Commonwealth citizens who are resident in the UK will be allowed to vote.
The voting criteria were also laid out in the 2015 Queen's speech.
"The franchise for the Referendum will be based on the General Election franchise, plus members of the House of Lords and Commonwealth citizens in Gibraltar. British, Irish and Commonwealth citizens over 18 who are resident in the UK will therefore be eligible to vote as well as UK nationals resident overseas for less than 15 years."
These criteria were then published in the EU referendum bill announced after the speech.
This received royal assent and became an act of parliament in December 2015.
What they are saying
"The Electoral Commission is encouraging people to make sure they have registered to vote. It really only takes five minutes to ensure you have your say in one of the biggest decisions we have had in a generation." – British government official, speaking to Euronews.
"This is a big decision for our country, one that is about the future of the United Kingdom. That is why we think it is important that it is the British, Irish and Commonwealth citizens that are the ones to decide." – Downing Street.

Sources
British Foreign and Commonwealth Office (FCO)
http://www.votes-for-expat-brits.com
http://www.telegraph.co.uk/news/newstopics/eureferendum/11627618/EU-referendum-Foreigners-barred-from-historic-vote.html
http://www.hansardsociety.org.uk/our-forgotten-voters-british-citizens-abroad/