Turkey: freed journalists' rallying call for press freedom
Comments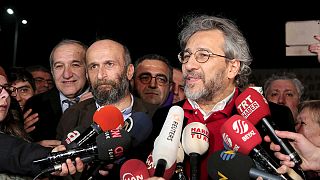 Turkey has released two prominent journalists after the country's top court ruled that their detention had violated their rights.
Can Dundar, the editor-in-chief of the Cumhuriyet newspaper, and Erdem Gul, the paper's Ankara bureau chief, have been released pending their trial in March on espionage charges. They were arrested in November.
"We think it was a historic ruling by the Constitutional Court. This ruling has paved the way for freedom of the press, freedom of speech," Dundar told a crowd of media and supporters after the journalists' release in Silivri, Istanbul province.
"They (the court) has proved that they are not bound by the (presidential) palace. It will open the way for a press that will not be under the pressure of the palace," Dundar continued.
Standing beside him, Gul warned of the limitations on press freedom in Turkey, saying: "We are getting out, but this does not mean that the dispute over jailed journalists is over. We still have friends in prison. Our struggle for them must continue."
Dundar and Gul were charged with aiding a terrorist organisation and jeopardising state security after Cumhuriyet published reporting and videos, which the newspaper said showed Turkish intelligence officials transporting weapons to Syria in 2014.
The charges, which Dundar and Gul deny, carry a life sentence.
The International Federation of Journalists (IFJ) has called for the Turkish authorities to "drop all charges against Can Dundar and Erdem Gul and to release the 30 other journalists still held behind bars".