Fresh fighting ahead of planned Syria ceasefire
Comments
By
Sarah Taylor
with
Reuters, Syrian Observatory for Human Rights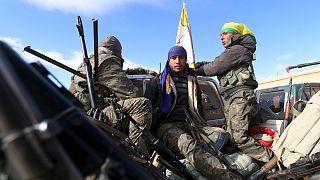 Just hours before a Russia-US agreed ceasefire is supposed to begin in Syria, the Kremlin has denied claims its jets have attacked civilian positions near Damascus.
British group the Syrian Observatory for Human Rights accuses Moscow of bombing the rebel-held city of Douma, just ten kilometres north-east of the capital.
The allegation came after Russian Foreign Minister Sergei Lavrov called on the United Nations to support the truce.
"Of course nobody can give any 100 percent guarantees, but there are very serious grounds to secure this positive move," he said.
Turkey says it supports the ceasefire in principle, but has "serious concerns" about the likelihood fighting will continue on the ground.
Ibrahim Kalin, spoke on behalf of the Turkish presidency:
"So far, the Syrian regime has used these negotiations, such as the talks in Vienna and Geneva, as a pretext to gain time. We hope that this time the outcome will be different but the worsening conditions on the ground do not help us to be hopeful."
The difficulties extend further, with the International Committee of the Red Cross saying there is an ever-increasing need for humanitarian aid nationwide.
Its president spoke following a visit to Homs, which has been ravaged in the nearly 5-year civil war.
The cessation of hostilities is due to start at midnight, local time, 23.00 CET on Friday February 26.