Syria conflict: First UN airdrop to besieged civilians in Deir al-Zour
Comments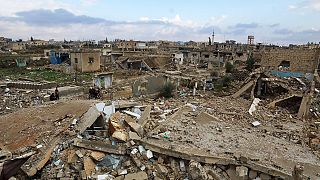 The United Nations says it is ready for a huge aid effort if the fighting stops in Syria.
There is no sign of that yet in the Damascus suburb of Daraya with just hours to go until the planned cessation of hostilities.
But as violence continues to rage, the UN has carried out its first airdrop of humanitarian supplies to the eastern city of Deir al-Zour, delivering 21 tonnes of relief for civilians besieged by militants from ISIL.
Near Aleppo, Syria's army has been battling the fanatics after an ISIL attack cut the main land route to the city.
The partial truce, due to start on Saturday, does not include ISIL or the al Qaeda affiliate Nusra Front.
But that group is widely deployed in areas held by the opposition which fears it may continue to be attacked by government forces, backed by Russian air power, under the pretext that they are targeting the extremists.
Syrian refugees in the world
Data up to February 2016 for
UNHCR
and the end of 2015 for other countries.
Sources:
UNHCR
, Government of Canada, U.S. Department of State, el Conare brasileño, Comisión Nacional para los Refugiados, Argentina, Ministerio de Relaciones Exteriores, Uruguay.
Note:
data for 37 European countries which provide monthly information to
UNHCR
. To the extent possible, the figures reflect first time asylum applications, but some of the statistics are likely to include repeated applications (same or different country).