Several dead as US south and east lashed by storms and tornadoes
Comments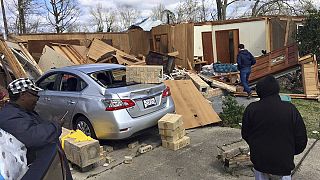 The US southeast and mid-Atlantic region have been lashed by violent thunderstorms and tornadoes that killed several people.
The states of Louisiana, Mississippi, North and South Carolina, Georgia and Virginia were among the worst hit.
In Convent, Louisiana, a tornado ravaged a caravan park, killing two people and injuring about 30 others.
The town of Waverley in Virginia took the brunt of the storm. Three people including a two-year-old boy died when their mobile home was demolished. Their bodies were found 300 metres away.
Police said the body of another man was recovered elsewhere.
Across the region high winds caused havoc. At least 200,000 people were left without power.
About 70 homes were damaged when a tornado ripped through a town in Florida.
Strong storms also moved as far north as Pennsylvania causing major damage and flooding.