World's best cities: Europe dominates
Comments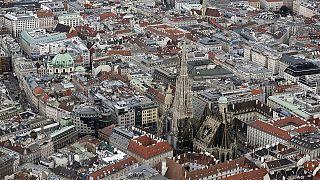 Tourist bosses in Vienna must be waltzing with glee!
For the seventh year running, Austria's grand capital on the Danube river has been found to offer the highest quality of life of all cities in the world.
The survey of 230 cities by consulting firm Mercer takes into account dozens of criteria such as political stability, health care, education, crime, recreation and transport.
And Vienna is far from the only German-speaking city to shine, with Zurich (2), Munich (4), Dusseldorf (6) and Frankfurt (7) all featuring in the top ten.
Vienna's 1.7 million inhabitants benefit from the city's café culture and museums, theatres and operas.
Good morning and #sweet greetings from #Vienna! https://t.co/cTAW6Uw0vu#foodie © Robert Osmark pic.twitter.com/A4JBSr4AhV

— ViennaTouristBoard (@ViennaInfoB2B) 26 Janvier 2016
Yesterday, the famous #ViennaOperaBall took place. We were there too with members of #CorpsDeBallett@WrStaatsoperpic.twitter.com/dp7ZrDW9YT

— ViennaTouristBoard (@ViennaInfoB2B) 5 Février 2016
Rents and public transport costs in Vienna, whose architecture is marked by its past as the centre of the Habsburg empire, are cheap compared with other western capitals.
Not to mention the fact that 1980's electro-pop band Ultravox wrote a smash hit about the place. (This was not part of the survey's criteria!)
The full list, which can be seen here, is put together annually by Mercer to help companies and organisations determine compensation and hardship allowances for international staff.
But it is also worth a glance by anyone planning a getaway, hence the joy of the Vienna Tourist Board.
We couldn't agree more: #Vienna is the most liveable city - for the 7th consecutive time #Mercer#qualityoflifehttps://t.co/He3a9M8TP7

— ViennaTouristBoard (@ViennaInfoB2B) 23 Février 2016
As for the whole of Europe, this is the best the continent has to offer, according to the list.
Prague (69) is the highest ranking city in Central and Eastern Europe, followed by Ljubljana (76) and Budapest (77). The lowest ranking cities in Europe are Kyiv (176), Tirana (179), and Minsk (190).
Global centres London, Paris, Tokyo and New York City did not even make the top 30, lagging behind most big German, Scandinavian and Australian cities.
Vancouver (5) is North America's highest ranking city, and Singapore is the highest ranking Asian city, holding 26th place.
We like it here, we think you will too! Vancouver offers best quality of life in N. America https://t.co/g46MSxptLWpic.twitter.com/y34cZVNAFL

— Vancouver CVB (@MeetVancouver) 23 Février 2016
The best African entry on the list was South Africa's Durban at 85.
Baghdad was again ranked lowest in the world. Waves of sectarian violence have swept through the city since the American-led invasion in 2003.
Damascus, five years into Syria's bloody war, ranked six places above Baghdad, with Bangui in the Central African Republic, war-torn Yemen's capital Sanaa, Haiti's Port-au-Prince, Sudan's Khartoum and Chad's N'Djamena in between.