Reforms in spotlight as French and German ministers meet Ukraine's Poroshenko
Comments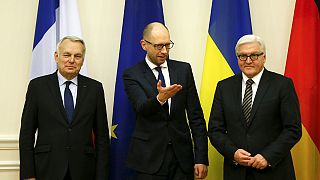 Foreign ministers from Germany and France have flown to Kyiv, to push Ukraine to move forward reforms needed for the Minsk peace agreement.
President Petro Poroshenko is meeting Frank-Walter Steinmeier and Jean-Marc Ayrault.
In recent weeks, political tensions have risen and some respected reformers have resigned, citing disenchantment with the government's cronyism and entrenched corruption.
Poroshenko last week urged Prime Minister Arseniy Yatsenyuk, a key figure of the 2014 protests, to resign along with his government.