Germany and France demand more reforms from Kyiv ahead of key talks
Comments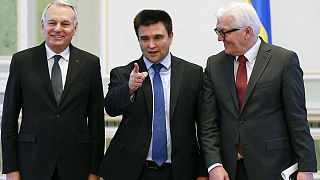 The foreign ministers of France and Germany are in Ukraine to urge Kyiv to continue on its reformist path.
German, French foreign ministers anxious about Ukraine
https://t.co/WtypBMHgWL

— warmananewsfeed (@warmananewsfeed) February 23, 2016
The ministers advised the Ukraine government to implement the Minsk II treaty, a deal brokered to ease the conflict with pro-Russian separatists in the east of the country.
The treaty has suffered repeated violations.
Germany, France press Ukraine on graft, vote in rebel east https://t.co/vhcWQGO0Wjpic.twitter.com/5w6GHIfb6R

—

FRANCE

24 (@FRANCE24) February 23, 2016
A lack of movement on elections in the disputed Donbas region is a cause for concern.
German Foreign Minister Frank-Walter Steinmeier said:"Both France and Germany know that the electoral law is one thing and preconditions for holding these elections are another. However, we should take care of both issues. And, of course, the security issue should not be an excuse for not working on the electoral law!"
#Kremlin#Donbas proxies drive out another vital aid charity as 'western spies'https://t.co/rJ4rLtBl18pic.twitter.com/xDe1YfTAkl

— Halya Coynash (@halyapuff) February 22, 2016
France, Germany concerned over stalled reforms and breaches of the ceasefire in Ukraine https://t.co/nseBJFzj1zpic.twitter.com/8n6nUui54f

— dwnews (@dwnews) February 23, 2016
Both ministers are willing to support Ukraine despite the lack of headway in curbing corruption and introducing reforms.
Euronews correspondent Maria Korenyuk, is in Kyiv:"The next crunch meeting will be held in one week. The foreign ministers of Ukraine, Russia, Germany and France will gather in Paris, on March 3."