German interior minister backs stricter border controls as Denmark extends checks
Comments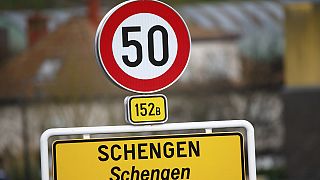 Denmark has announced that it will extend temporary controls at the German border for at least ten more days.
Denmark Extends Schengen Border Checks to March 4 – Immigration Minister https://t.co/nAxFde2sLWpic.twitter.com/BLxyTBKk29

— Skowtura Kreska (@Skowtura_Ini) February 23, 2016
It marks the third time the Danish government has extended the measures, which were initially put in place on January 4.
#Migrants_Crisis: #Denmark Extends ID Checks at #Germany Border – See more at: https://t.co/TOSxwiNZID#refugees
SH pic.twitter.com/B2aI60w5yP

— #Alalam (@AlalamChannel) February 2, 2016
Denmark says it is mirroring Sweden's decision to tighten its borders.
German Interior Minister Thomas de Maiziere defends police action against migrants in Saxony https://t.co/xUnbjyOkhOpic.twitter.com/YIVBnV1hnN

— dromografosNews (@dromografosNews) February 22, 2016
The Germen interior Thomas de Maizière is sympathetic to those countries that wish to increase frontier checks: "Until now, the systematic control of the Schengen borders was forbidden. And if you wanted to control borders, then you needed a special consultation process. The proposition by the European Commission regarding terrorism suggests that these systematic controls should become the rule and that you can make exceptions in certain cases. That is an important point and we support that."
A new report by Germany's Bertelsmann Foundation claims an end to Europe's Schengen passport-free travel zone could cost the European Union up to 1.4 trillion euros over the next decade.''