Fears of disease in cyclone-hit Fiji amid race to reach remote islands
Comments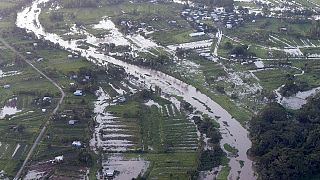 Aid agencies are rushing to distribute supplies in Fiji, ravaged at the weekend by Cyclone Winston which left at least 29 dead.
People in Rakiraki on the country's main island waited patiently as boxes were unloaded from an aid lorry. They are the lucky ones; although most of the 900,000 population live on Fiji's two main islands, many others scattered around the archipelago of 300 islands are much harder to reach.
Early assessments of the damage have been described by the Fiji Times as "not positive at all".
Aerial footage of outlying islands taken by the Royal New Zealand Air Force and posted on the Fiji government's official website showed whole villages flattened by winds of over 300 kilometres an hour.
Flooding is also a problem: thousands of Fijians live in tin or wooden shacks in low-lying coastal areas.
LATEST: Images from FijiGovernment</a> in the wake of <a href="https://twitter.com/hashtag/CycloneWinston?src=hash">#CycloneWinston</a> <a href="https://twitter.com/hashtag/TCWinston?src=hash">#TCWinston</a> <a href="https://t.co/qorBLGJuxl">pic.twitter.com/qorBLGJuxl</a></p>&mdash; CARE Australia (CAREAustralia) February 23, 2016
Authorities say the storm, which also affected parts of Tonga, was the most powerful on record in the Southern Hemisphere.
"We were inside the house, so it (the cyclone) was very strong, damaged everything… so we had to run for our lives in the trees," said one man, doing what he could to salvage his possessions among the debris.
13,193 People in 274 Evacuation Centers around the country #StrongerThanWinston

— FijiGov

RMDNDM

(@FijiGov_RMDNDM) February 23, 2016
Fiji has sent boats carrying aid to remote islands, many of which are still cut off, while Australia and New Zealand have also sent aid.
Authorities have warned of "catastrophic" damage to Koro island, Fiji's seventh-largest island.
Prime Minister Frank Bainimarama said the government was doing all it could amid growing criticism of the slow emergency response in some parts of the country.
A NZDF C-130 has delivered its 12 tonnes of relief supplies to Fiji in the wake of TC Winston. Kia kaha Fiji #NZDFpic.twitter.com/7snjprX8bk

— NZ Defence Force (@NZDefenceForce) February 22, 2016
Aust is helping #Fiji recover from #TCWinston's extensive damage https://t.co/8fK0JsOY5khttps://t.co/I2y15krMOcpic.twitter.com/48EoMnWz5F

—

DFAT

(@dfat) February 23, 2016
Schools have been closed for two weeks – but the destruction means it's bound to be a lot longer before many are up and running again.
"We have some very poor students… and I think it will be very sad for them to see that their schools have been damaged as such. And I don't know if they will let their students come to this school or find other schools that are available," said one teacher amid the ruins of her school building.
Survivors tell their stories – Fiji Times Online https://t.co/FPixg1tLTC

— The Fiji Times (@fijitimes) February 23, 2016
"We hold grave fears for people living in Fiji's outer islands" CARE's Anna Cowley on #CycloneWinston via abcnews</a> <a href="https://t.co/qW2fFi6CTT">https://t.co/qW2fFi6CTT</a></p>&mdash; CARE Australia (CAREAustralia) February 23, 2016
Elsewhere, families including children washed and played in a river in the sunshine.
Aid workers have warned of possible outbreaks of Zika and Dengue viruses – both carried by mosquitoes which will flourish in stagnant water left by the storm.
There are fears the death toll could rise once remote islands are reached.