Facebook's Zuckerberg drops into Mobile World Congress
Comments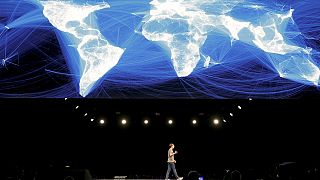 The latest in virtual reality technology has been turning heads at the Mobile World Congress event in Barcelona.
The likes of Samsung and LG Electronics have also been unveiling their latest smartphones, as they seek to stem a slump in the industry.
"You can see a very clear break towards the 'internet of things' compared to recent years. The world of wearables is concentrated in a few companies, the most important, the historical ones," said one visitor.
"I'm personally interested in the consumer world. I've seen smartphones and devices. They don't have much more to give in terms of innovation because they are already way ahead."
Facebook's Mark Zuckerberg made a surprise appearance, saying there is still work to do to get the world connected.
"It's kind of crazy that we're sitting here in 2016 and still four billion people in the world don't have access to the internet," said Zuckerberg.
Zuckerberg also announced a partnership with Samsung, working together on virtual reality and 360 video.
This, as the tech giant has launched two new versions of its Galaxy S smartphone.
LG unveiled a virtual reality headset too, along with a drone controller to pair with its new G5 smartphones.
"Mobile is everything. That's the slogan of the Mobile World Congress here in Barcelona," reported euronews' Claudio Rosmino.
"This year, more than ever, the smartphone is at the core of everything: now an electronic device that allows you to interact with your own life, always and everywhere."