Samuel Willenberg the last survivor of Treblinka laid to rest in Israel
Comments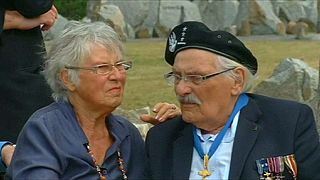 The funeral has taken place in Israel of Samuel Willenberg. He was one of only 67 people known to have survived the notorious Nazi death camp Treblinka in Poland.
The President of Israel Reuvin Rivlin called him a symbol of heroism who had the strength to rebuild his life in the aftermath of the Holocaust.
Samuel Willenberg died on Friday in Israel aged 93 – the last survivor of Treblinka. In 1942 he was among 6,000 Jews who arrived at the camp by train. He was assigned to labour duties and so avoided an early death.
Mr. Willenberg escaped by clambering over bodies piled up by a fence as the Nazis shot prisoners during a mass break out. He hid in the surrounding countryside before reaching Warsaw and joining the Polish underground.
He returned to the site in 2013 to mark 70 years since his escape and urged the world never to forget Treblinka.
His two sisters were killed there among 870,000 people who died in the gas chambers – more than anywhere else except Auschwitz.
Most of Treblinka's guards were never prosecuted for their part in the crimes there.