Powerlifting: Rahman breaks world record
Comments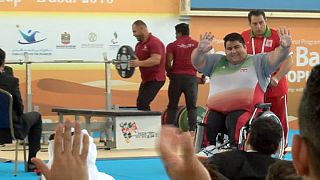 Some 200 athletes from 40 nations gathered in Dubai for the latest IPC Powerlifting World Cup event – an event that many used to improve their rankings for the Rio 2016 Paralympic Games.
Egypt's powerlifters dominated the medals table with ten golds, four silver and two bronze.
Iran were second with three gold, two silver and one bronze while Ukrainian athletes rounded out the medal's podium with two gold, four silver and three bronze.
Although Egypt dominated the medals one powerlifter from Iran dominated the headlines.
In his first outing of the new year Siamand Rahman, Iran's Paralympic and world champion in the over 107 kilo division, certainly didn't disappoint in the United Arab Emirates.
After putting in two mighty lifts of 275kg and 286kg Rahman went for glory at 296kg…and made it.
It was the ninth time the Iranian has broken the world record.
His ultimate goal, however, is to reach the 300 kilo mark – a target he has set for himself at the Rio Games.