India deploys thousands of troops to quell caste quota protests
Comments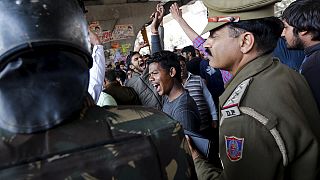 India has deployed thousands of troops to quell protests linked to the country's caste system of social structure.
Many from the Jats caste,considered to have a high social status, are angry because people from so-called lower castes benefit from positive discrimination and quotas for government jobs and educational openings in India.
The protests in the northern state of Haryana have severely hit water supplies to Delhi, home to more than 20 million people.
"Due to the ongoing tension in Haryana, water supplies from the Munak canal to Delhi have been stopped," explained Dehli chief minister Arvind Kejriwal. "There has been no water supply from there for two days. That's created an acute water crisis in Delhi."
The Delhi government has rationed water supplies to residents to make sure hospitals and emergency services have enough.
The protesters have been driven by members of the Jat agricultural community, who are demanding benefits both at the federal and state levels, including guaranteed government jobs or university places.
Officials said at least ten people have been killed in clashes between security forces and demonstrators. More than seventy other people have been injured since Friday (February 19).
Deadly caste violence continues in #India's northern state of #Haryana; at least 5 killed https://t.co/5NnFhwOtb6pic.twitter.com/RmmwGdo3Ym

— China Xinhua News (@XHNews) February 21, 2016