France marks Battle of Verdun centenary
Comments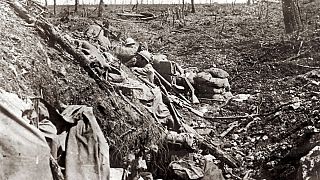 France has been marking the centenary of the World War I Battle of Verdun.
A re-enactment of the conflict featured the sound of shellfire.
The German Army launched its offensive against the symbolically important target of Verdun on February 21,1916.
100 Years Ago Today: Battle of Verdun starts #Verdun2016#WW1:https://t.co/T8CjokbYrtpic.twitter.com/HFShKaNRC2

— Centenary News (@CentenaryNews) February 21, 2016
It was the bloodiest battle of the war, second only to that of the Somme.
The fighting lasted almost until Christmas. 300,000 French and Germans were killed.
A memorial took two years of work and a twelve-million euro investment to complete.
"My father was a German solider in 1914," said Luc Heinrich, "so a big part of this is in memory of him."
"Tomorrow the young will have forgotten," said one man dressed as a soldier. "But it's thanks to these men that we are free."
Today's blog marks the anniversary of the #WW1 Battle of #Verdun, using letters from MS 2326 https://t.co/3I3eUSgbKopic.twitter.com/BAYujqkpJK

— Birmingham Archives (@TheIronRoom) February 21, 2016
Sunday's commemorations included old film footage, readings from different first-hand accounts of the battle, musical performances and a Mass.
We Will Remember Them
The Battle Of Verdun pic.twitter.com/6VQQFgE3IT

— Forcespride (@poppypride1) February 21, 2016