Actor Gerard Depardieu speaks about 'Saint Amour' and Russia
Comments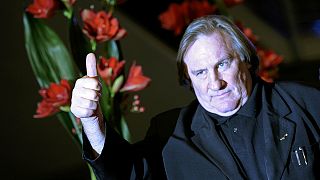 Actor Gerard Depardieu is at the Berlin International Film Festival, for the world premier of his new movie. Depardieu plays a bull farmer enjoying the best French wine on a father-and-son road trip. With a wink in his eye, the French actor spoke to our man in Berlin, Wolfgang Spindler.
"It is really a nice role above all with the bulls, poultry, farmers, it's perfect [for me].. but for me [in the real life] "women and alcohol" it is over, but not for the producer M. Guérin takes a lot…of alcohol and also women," he said with a wink in his eye.
Depardieu and Russian citizenship
Asked by reporters about his having accepted Russian citizenship granted him by President Vladimir Putin in 2013 at a time when Depardieu was chafing at the prospect of higher French taxes, the actor said these days when he travels he feels that he is Russian.
"I feel very Russian even abroad because I am outside of France, a lot," he said.
"How would one not feel more Russian than French with the president that we have in France?," Depardieu said, referring to President Francois Hollande.
Since he got his Russian passport, Depardieu has defended Russia's international policies in interviews with French and other media.
"It's true that I have a lot of admiration for Putin and what he does and for the Russian population. Some French intellectuals don't like that sometimes – including my friends and I am not reproaching them, I don't want anything to do with that because me, I know what I live."
Berlinale's Golden Bear
The main Golden Bear prize will be awarded tonight (February 20).
"The competition is over," reports Spindler. "There is no real candidate for the Golden Bear Award for best film. Tonight the jury under Meryl Streep will announce who will get a Bear."
"I already have mine," Spindler says, holding up a cuddly teddy bear. "Well in fact I bought it and its neither golden nor silver but plush but this bear is mine," he added with a twinkle in his eye.
InThePanda</a> <a href="https://twitter.com/Seb_du_Grenier">Seb_du_Grenier quitte à attendre un proch film avec Depardieu je choisis celui là (j'M aussi Depardieu) pic.twitter.com/BhGl6ysJmt

— Robin (@Piwi_47) February 10, 2016