Lifetime achievement award for German cinematographer Micheal Ballhaus
Comments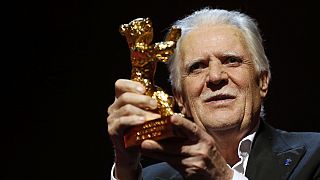 German cinematographer Micheal Ballhaus has received a lifetime achievement award at the Berlin International Film Festival, the Berlinale.
In the 1960s and 1970s, Ballhaus worked with major German directors such as Rainer Werner Fassbinder, Wim Wenders, and Volker Schlöndorff. In the early 1980s, he launched a second career in America and soon became one of Hollywood's most sought-after cameraman.
Our man in Berlin, Wolfgang Spindler, asked Micheal Ballhaus how a cameraman can achieve a similar level of success.
"It's not so easy, first of all you have to love this profession because it's a hard job," replied Ballhaus. "You must be flexible because you have to deal with very different film director personalities and you need to have ideas. When the film director has no ideas you have to come up with proposals and you be determined to manifest your ideas."
During his 50-year career, Ballhaus has made more than 150 movies and received numerous German and international awards. In 2014, he announced that he was suffering from glaucoma, a disease which gradually impedes eyesight. Without the disease, Ballhaus would probably still be working.
Standing ovation for #MichaelBallhaus. #Berlinale#BerlinaleMomentspic.twitter.com/Z5qtXN0vX6

— Berlinale (@berlinale) February 18, 2016
With Martin Scorsese he worked on films like "Goodfellas" (1990), "Departed" (2006) and "Gangs of New York" (2002). Ballhaus also recalled being some kind of troubleshooter during the production of "After Hours" (1985).
German actress Hanna Schygulla came as a surprising guest to the award ceremony in Berlin. She collaborated with Michael Ballhaus dring several Rainer Werner Fassbinder movies.
Euronews correspondent Wolfgang Spindler reported: "He has worked with the best directors and Michael Ballhaus was nominated for an Oscar but always ignored the the American Film Academy. Now he's been awarded with an honourary Golden Bear for his life achievement which he deserves like no other cinematographer"