Kosovo opposition set off tear gas in parliament, again
Comments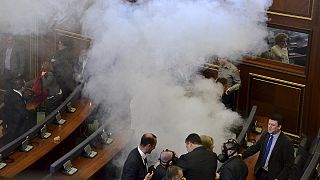 Not for the first time, opposition lawmakers in Kosovo's parliament have protested at deals with Serbia and Montenegro – by releasing tear gas in the chamber.
They argue the Serbian accord gives more powers to ethnic Serbs in Kosovo, complain that a border arrangement with Montenegro gives up Kosovo's land to its neighbour, and have called for new elections.
They failed to get the deals struck down or elections announced. They did get thrown out of the chamber by the police.
Since October the opposition has released tear gas and staged street protests during every parliamentary session.