ISS sends space junk back towards Earth to burn up
Comments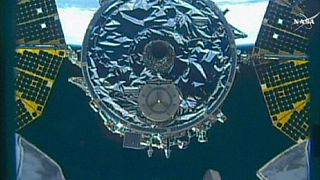 A cargo ship filled with rubbish has been released into space from the International Space Station.
The Cygnus spacecraft, which had brought supplies to the astronauts, spent 72 days at the space station.
Amid concern over the amount of junk in orbit, it is now expected to burn up in the Earth's atmosphere over the weekend, destroying its load over a remote part of the Pacific Ocean.
#Cygnus departs station at 7:26am ET/12:26pm UTC for Saturday deorbit over Pacific Ocean… https://t.co/04ofREJvXthttps://t.co/LV8UOEpNRm

— Intl. Space Station (@Space_Station) February 19, 2016