Turkish press says 'foreign powers' behind Ankara blast
Comments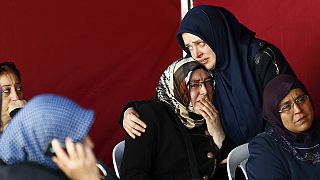 There is widespread agreement across the Turkish press that the Ankara blast was a direct attack on the country and that so-called "foreign powers" are to blame.
It comes as Turkey is becoming increasingly embroiled in the war in neighbouring Syria and the fiercest violence in decades in its Kurdish region.
One Ankara resident described the feeling of some after the attack: "Everybody is scared. Last night in the crowds, we saw that fear in everyone's eyes. People were escaping from the site of the explosion instead of going there out of curiosity. We can't stay in crowds, we cannot stand being in crowded places, we are not as comfortable as we were in the past."
Another resident Abdurrahman Ozer said: "This is a game played by foreign powers against our country. Now it is high time to stand in solidarity. Nobody is in a position to criticise the others. I believe that we will rise above this together. I am very saddened."
Last month, Turkey's Prime Minister Ahmet Davutoglu said the security operation against the Kurdish PKK is "to a large extent completed". But with no ceasefire in place, the conflict appears far from over.