EU leaders meet in Brussels for 'Brexit' summit
Comments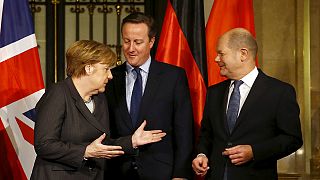 Cameron – "progress made" in run up to summit
Tusk – "no guarantee of a deal"
Merkel – "demands are not just for Britain"
British Prime Minister David Cameron is in Brussels for the most crucial summit of his premiership. He needs a deal on his controversial reforms including welfare curbs or Britain could be voting to leave in a referendum back home.
But European Council President Donald Tusk has warned all 28 leaders in a letter that negotiations so far point to no guarantee of a deal and for everyone to remain constructive today.
Key issues unresolved
Concerns in eastern Europe that a deal to help Cameron cut immigration by barring low-paid EU workers from British benefits will hurt their citizens.
French insistence the City of London match euro zone regulation.
Efforts to ensure British exemptions from closer EU integration do not become more widespread.
Reluctance in some capitals to commit to future amendments of EU treaties.
One person who has given an indication to German lawmakers that she is sympathetic is Chancellor Angela Merkel.
"Because Cameron's demands are far from being demands that are just for Britain. In some cases we must say, quite the opposite. Many issues are issues that are justified and necessary."
But the question of a possible Brexit is not the only issue. There is migration too. Greek Premier Alexis Tsipras wants to discuss an EU ultimatum of three months to fulfil 50 recommendations to fix its borders. If it does not, countries in the passport-free Schengen zone will impose checks on internal frontiers for up to two years.