Polish film director Andrzej Żuławski dies at 75
Comments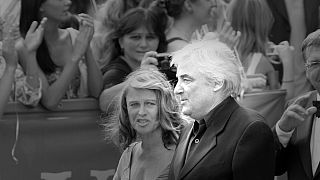 The Polish film director and writer Andrzej Żuławski has died at the age of 75. He had been suffering from cancer.
His death was confirmed by the Association of Polish Filmmakers. His son Xawery had also written on Facebook that his father was in the final stages of the disease in hospital.
Żuławski shunned commercialism in his films and enjoyed success among European art-house audiences. He made several movies in France, among them "Mad Love" in 1985. His final film "Cosmos", was made last year.
Film critic Janusz Wroblewski said several of his films would go down in history, including his first two pictures "The Third Part of the Night" (1971) and "The Devil" (1972).
"(His death) is a great loss for Polish and world cinema," Wroblewski said. He described Żuławski
as a radical and innovative director for his time.
After "The Devil" was banned in then communist Poland, Żuławski went to France where he had previously studied at the Sorbonne having moved to the country with his parents at the age of five. He went on to make "The Most Important Thing: Love" ("L'Important c'est d'aimer") with Romy Schneider in 1975.
#RomySchneider in the mythical sequence from #Zulawski's #LImportantCestdAimer. https://t.co/R6WCeIkMz5pic.twitter.com/Qa5B1nG1Mm

— UniFrance (@uniFrance) February 17, 2016
His return to Poland was marked by more conflict with the authorities, who stopped production of "The Silver Globe" which they saw as criticism of communist rule. They ordered all material to be destroyed, but some was preserved and several years later saw the light of day as "On The Silver Globe" in 1988.
Żuławski had three children, including one with the French actress Sophie Marceau. The couple were together for 16 years before separating in 2001.
The chairman of the Association of Polish Filmmakers, Jacek Bromski, said Żuławski was "a very original, sometimes controversial artist but who was always faithful to himself".
Andrzej #Zulawski : décès du réalisateur de "L'important, c'est d'aimer"https://t.co/po8brotBq8pic.twitter.com/p97SngRfQJ

— Le Point (@LePoint) February 17, 2016