At least 28 dead as car bomb targets military in Turkish capital Ankara
Comments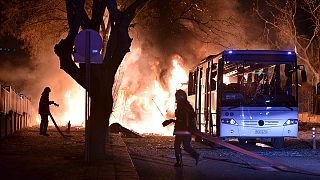 A bomb attack in the heart of the Turkish capital Ankara – apparently targeting the country's military – has killed nearly 30 people and injured more than 60.
It's thought to have been caused by a car bomb. A vehicle filled with explosives reportedly detonated as military buses were stationed close to the armed forces' headquarters, parliament and government buildings. Buses carrying military personnel were attacked while waiting at traffic lights at an intersection, according to reports.
It happened at the height of the evening rush hour – close to the centre of administrative and military power.
[WATCH] Security camera footage shows moment of deadly #Ankara explosion https://t.co/nzfFBnsxbwpic.twitter.com/GBKcIDCCtt

— Today's Zaman (@todayszamancom) February 17, 2016
The deputy Prime Minister Numan Kurtulmuş said 28 people were confirmed dead, with 61 injured. He called the attack an act of terrorism.
The Turkish President Recep Tayyip Erdoğan called those responsible for the attack "pawns" who knew "no moral or humanitarian bounds", adding that the fight against them would grow more determined.
He has postponed a planned visit to Azerbaijan, while Prime Minister Ahmet Davutoglu has cancelled his scheduled trip to Brussels.
#Erdoğan says Turkey to fight forces behind #Ankara bombing https://t.co/9ZXTAb0UNjpic.twitter.com/scy9287AW9

— Today's Zaman (@todayszamancom) February 17, 2016
It's too early to say who carried out the attack; there was no immediate claim of responsibility. The deputy prime minister said "We don't know who are the perpetrators of Ankara attack", but he added that it had been "well planned".
A security official said earlier that initial signs indicated the outlawed Kurdistan Workers Party (PKK) was responsible, but other sources in the mainly Kurdish southeast said so-called Islamic State militants were more likely behind it.
International condemnation has been coming in: including from the President of the European Council Donald Tusk, NATO Secretary General Jens Stoltenberg, and the French and British governments.
Another attack hit #Ankara today. We are with Turkey and its people in these difficult times – FedericaMog</a> <a href="https://twitter.com/JHahnEU">JHahnEUhttps://t.co/cJXxr9TvBi

— EU External Action (@eu_eeas) February 17, 2016
I strongly condemn the terrorist attack at the heart of #Ankara. Deepest condolences to families of those killed. https://t.co/OqmvXZ3RnX

— Jens Stoltenberg (@jensstoltenberg) February 17, 2016
My thoughts are with the victims of #Ankara terror attack. The UK utterly condemns this senseless act of violence.

— Philip Hammond (@PHammondMP) February 17, 2016
Shocked by news of terrorist attack in #Ankara. Our thoughts are with people of Turkey

— Dalia Grybauskaitė (@Grybauskaite_LT) February 17, 2016
Kurdish militants, left wing radicals and Islamist fundamentalists have all staged bombings in Turkey in recent years.
The PKK has attacked military targets though it has largely focused on the mainly Kurdish southeast.
Turkey has been attacking Kurdish fighters in Syria – to international condemnation – and the country has been feeling the reverberations of the war.
In October an attack in Ankara targeted a rally of pro-Kurdish activists, killing more than 100 people. In Istanbul in December a bomb attack killed several people including German tourists.
The number of victims and the symbolic nature of the latest attack – striking the heart of Turkish military and political power – suggest this is an event that may raise tensions to a new level.