Ankara blast: Witness describes narrow escape
Comments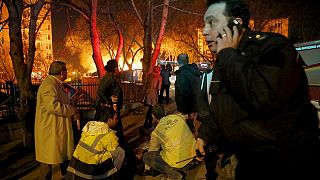 The explosion which targeted an army convoy was witnessed by an Ankara resident. Noury had only seconds before driven past the scene of the blast and he told a reporter what had happened.
"After 20 seconds, you know, it was nearly 300 meters distance when I left the explosion. And there was a very huge explosion and I saw a flash. Then you know, it was the very huge sound. I don't know how, I hit my head to the sunroof. Everyone has a panic and that's it. It was very shocking because I survived only [by] 20 seconds. Now I'm still shaking and I can't believe that that's happening in my area."
Breaking: car bomb in centre Ankara, Turkey. https://t.co/5ZoTNVSsO7

— End of Europe (@End_of_Europe) February 17, 2016
The powerful explosion was heard all over the city sending residents to their balconies in panic according to one person while another described plumes of smoke rising from the scene.