'No guarantees' for UK's Cameron over EU reform demands in Brussels
Comments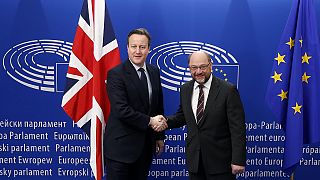 David Cameron is at the European Parliament in Brussels on Tuesday, seeking support for his EU reform demands for Britain.
A late arrival was not the best of starts for the UK prime minister. Nor perhaps was his host's failure to guarantee that any deal approved by Britons in an in-out referendum would be binding.
"I can't give a guarantee for an outcome of future legislation," European Parliament President Martin Schulz told reporters.
"Nevertheless, it is quite understandable that the prime minister asked the European Parliament to cooperate as intensive (sic) as possible and that was the assurance that I gave to the prime minister that we will do the utmost to find the fair deal."
Welcome @David_Cameron. EP will be honest partner but with concerns to raise and see addressed #UKinEUpic.twitter.com/ZAx2q2xLLH

— EP President (@EP_President) 16 Février 2016
Ahead of a crucial end-of-week EU summit, the British premier met President Francois Hollande in Paris on Monday night.
A French presidency source said there was a will to reach a deal but there is still work to be done – especially on economic governance.