Westbrook and Bryant shine as West beat East in All star game
Comments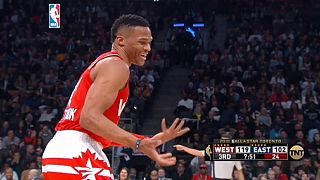 The 65th edition of the NBA All star game took place over the weekend the Eastern Conference's star players against their Western Conference counterparts.
The year's event was staged at the Air Canada Centre in Toronto for the very first time.
In a whose who of the current cream of the crop, Kobe Bryant thrilled the crowd as he made his 18th and final All-Star appearance for the West – although it was the East that started brighter thanks to Le Bron James and Paul George.
Golden State's Stephen Curry helped turned the tide in third and ended the entertaining night with 26 points.
But Russel Westbrook proved harder to handle for the East as the Oklahoma City Thunder point guard scoring 31 points, eight rebounds, five assists and five steals en route to winning the game's MVP Award – worth a little celebration…
Paul George hit a whopping 41 points for the East – but it wasn't enough to stop the West winning through 196-173 for the side's fifth win from the past six editions.