Violence escalates in Israel and West Bank
Comments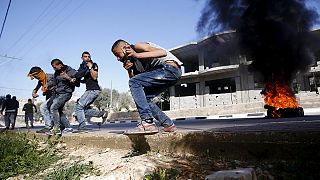 The Palestinian Health Ministry says at least 25 people were wounded in clashes with Israel Defence Forces at a refugee camp near the West Bank city of Ramallah. The IDF raided the camp to make an arrest.
The ministry claims several Palestinians were hit with live bullets.
Separately, Israeli security forces have arrested the head of the armed Palestinian Tanzim organisation. Jamal Abu Lil is reportedly accused of planning shooting attacks and funding military activity.
Israeli police said a Palestinian woman was shot and wounded by IDF troops in the West Bank city of Hebron on Sunday .. after trying to stab an Israeli soldier.
Dozens of people attended a funeral of two 15-year-old Palestinians who were shot dead by IDF troops in Jenin after throwing rocks at Israeli cars. Israeli police say that one had open fire on soldiers.
Last night, 2 assailants fired at security forces near Damascus Gate in Jerusalem. Forces responded & shot attackers pic.twitter.com/Msueja0WMV

—

IDF

(@IDFSpokesperson) February 15, 2016
In another incident, a Palestinian tried to stab an Israeli paramilitary policeman at a checkpoint in the West Bank, near Jerusalem, and was shot dead, police said.
Israeli security forces have killed at least 163 Palestinians, 107 of whom Israel says were assailants, while the others were shot dead during violent anti-Israeli protests, as the bloodshed persists into a fifth month.
Stabbings, shootings and car rammings by Palestinians have killed 27 Israelis and a US citizen since early October.