Russian lorries stuck as Poland and Ukraine close borders
Comments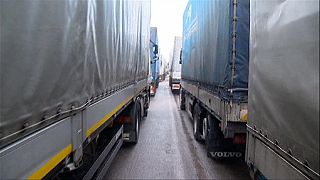 Russian lorries are facing a tortuous journey to Europe because of separate disputes with Poland and Ukraine.
Hundreds have been stuck at three border checkpoints between Belarus and Lithuania – the last alternative route for Russian goods to the EU after Moscow and Warsaw failed to agree on transit rules.
An agreement on trade traffic between Russia and Poland expired on February 1. With drivers from both countries banned from crossing the border, lorries bound for Europe head for Klaipeda on Lithuania's Baltic coast.
The route via Belarus takes a week longer than the direct ones. Lorries with Russian plates are having to wait for up to 48 hours to cross the border into Lithuania.
To the south, Ukraine has said Russian cargo trucks will temporarily not be allowed into the country, a tit-for-tat move after Russia banned Ukrainian lorries.
Moscow has accused Ukrainian nationalists of preventing Russian trucks from reaching Belarus.
Earlier Russia said it blocked more than 150 Ukrainian lorries from heading for Kazakhstan.
"Долучайся до Всеукраїнської блокади російських фур!" pic.twitter.com/bFpIOsDUi1

— Владимир Спивак (@Spivak1971) 15 Février 2016
#Блокада на #Закарпаття : російські фури намагалися вночі прорватися до кордону https://t.co/64p4qyKn4Ipic.twitter.com/tTFa1veGNr

— 24 канал (@24tvua) 13 Février 2016