Pilots demand laser ban after UK flight incident
Comments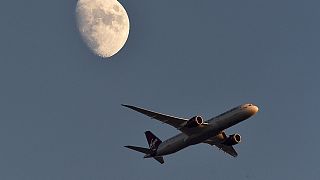 The British Airline Pilots Association (BALPA) is calling for tougher legislation to crackdown on the use of lasers after a laser beam forced a Virgin Atlantic flight bound for New York to return to London after dazzling the co-pilot.
The association says lasers can cause a temporary loss of vision.
"It is absolutely necessary that the government makes these lasers an offensive weapon, they are just the same as carrying a knife," said BALPA spokesman, Captain Dave Smith. "BALPA's biggest fear from these laser attacks is it's going to happen right at the critical moment on landing, both pilots could be blinded and that aircraft could end up off the runway with injuries not only to the crew but the passengers and obviously that would be a very serious incident."
Passenger Tom Whitfield was on the flight to New York with his partner for Valentine's Day.
"I'm quite a nervous flier as it is," he said. "So, once we were mid-flight and I was settling into my sort of vodka and coke, once the pilot made the announcement then you could tell something ominous was going on because of the tone on his voice. So it was quite scary to be fair."
Virgin Atlantic said it is working with authorities to identity the source of the beam.
Records suggest 1,500 such attacks a year in the UK, but few prosecutions.