France's Sebastien Ogier rules the roost after shortened Sweden Rally
Comments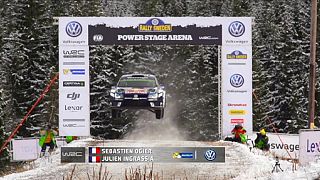 There was no surprise in the result of the Sweden Rally but plenty of suspense as Sebastien Ogier had a thrilling drive to finish top.
Having led from start to finish, the Frenchman pushed his VW Polo to the limit through the Nordic forests.
Unseasonably warm weather meant only 12 out of 21 stages went ahead and without frozen roads the rally cars turn the tracks to mud but that didn't appear to impede Ogier's progress, although he was lucky to escape several scares…
The Frenchman was chased home by New Zealand's Hayden Paddon who capped a very successful debut for Hyundai with their i20 car. The kiwi finished 29.8 seconds behind.
Norway's Mads Ostberg finished third in his Ford Fiesta another 25.8 seconds further back.
Result from the Rally of Sweden
1. Sebastien Ogier (France) Volkswagen 1:59:47.400
2. Hayden Paddon (New Zealand) Hyundai +00:29.800
3. Mads Ostberg (Norway) Ford 00:55.600
4. Andreas Mikkelsen (Norway) Volkswagen 01:10.800
5. Ott Taenak (Estonia) Ford 01:50.700
6. Daniel Sordo (Spain) Hyundai 02:24.000
7. Henning Solberg (Norway) Ford 02:40.000
8. Craig Breen (Ireland) Citroen 02:44.600
9. Elfyn Evans (Britain) Ford 05:17.000
10. Teemu Suninen (Finland) Skoda 05:31.600
Leading driver standings after Round 2
1. Sebastien Ogier VW 56 pts
2. Andreas Mikkelsen VW 33
3. Mads Ostberg Ford 27
4. Hayden Paddon Hyundai 18
5. Dani Sordo Hyundai 18