Syria ceasefire more likely to fail than succeed, says Russian FM
Comments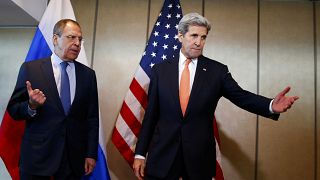 Russia's foreign minister said a Syrian ceasefire set to start next week is more likely to fail than succeed.
Sergey Lavrov was speaking at a security conference in the German city of Munich on Saturday (February 13), one day after the International Syria Support Group (ISSG) agreed to a "cessation of hostilities."
Lavrov warned against demonising Syria's president Bashar Assad. He said that Syrian opposition forces had besieged thousands of civilians.
"My point is, you should not demonise [Syrian President Bashar] Assad, you shouldn't demonise anyone except terrorists in Syria, and the humanitarian issues must be resolved through co-operation. Mind you, to say unless all humanitarian problems are over, unless violence stops completely, we are not going to negotiate, is a road to nowhere. It's a blunt provocation."
International divisions over Syria resurfaced at the German conference where Russia rejected French accusations that it was bombing civilians.
US Secretary of State John Kerry said Moscow must change its targets to respect the ceasefire.
"The vast majority — in our opinion — of Russia's attacks have been against legitimate opposition groups," said Kerry. "And to adhere to the agreement that has been made, we think it is critical that Russia's targeting changes. And the entire ISSG, including Russia, has agreed to work to make that happen."
Euronews reporter James Franey reported from Munich: "There are still many disagreements between the United States and Russia, none more so than the future of President Bashar Assad.
It's left some Western diplomats here wondering whether Thursday's deal to cease hostilties in Syria is even worth the paper it's written on.
It leaves the prospect of success for any future peace talks looking very unlikely indeed."
READ .FredericHof</a> discuss the Munich agreement, are they just "words on paper"? | <a href="https://twitter.com/hashtag/Syria?src=hash">#Syria</a> → <a href="https://t.co/UdjiamMjB1">https://t.co/UdjiamMjB1</a> <a href="https://t.co/nWyqexHPwd">pic.twitter.com/nWyqexHPwd</a></p>&mdash; Syria Source (SyriaSource) February 12, 2016