Prevc soars to victory with massive leap at Monsterbakken
Comments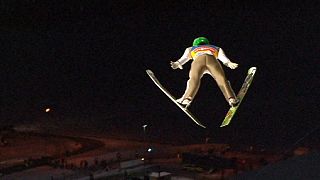 Peter Prevc swept away with the spoils on day two of competition on the "Monsterbakken" in Norway.
The Slovene's two jumps of 238.5m and 230m gave him a points total of 457.6 and more importantly his tenth win of the season. He now only needs three more victories to equal the record of Austrian Gregor Schlierenzauer.
"The jump in the trial round was not that good, but I was able focus in the competition and performed better then. In the final there was a lot of waiting because of the wind. I knew I would need a better take-off. I hope I can perform on a high level again tomorrow," said Prevc afterwards.
In second place was Johann Andre Forfang of Norway who grabbed his fourth podium finish of the season with leaps of 229m and 222m.
Friday's winner Robert Kranjec, returned again to the rostrum with a third place finish with jumps of 218.5 m and 226.5 m to collect 429.5 points. "The weekend was perfect so far. I didn't expect to be on the podium after the first round, I was many points behind already. The conditions were difficult with a lot of tail wind," he said.