Catholic and Russian Orthodox leaders end 1000-year standoff
Comments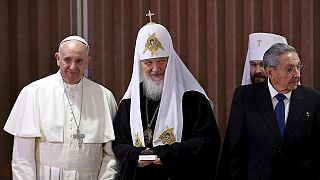 It is a meeting that may signal the beginning of the end of nearly 1000 years of bitter and often bloody rivalry between two branches of the Christian church.
Pope Francis met Patriarch Kirill in Cuba, the Catholic pontiff on his way to Mexico for a five-day visit, while the Russian Orthodox leader was exercising a little soft power on behalf of the Kremlin.
Pope Francis has spoken recently of how he sees Russia playing an important role in the future of world peace, and both men issued a joint warning against the persecution and "extermination" of Christians in many places in the Middle East and Africa.
Kirill is not seeking to shake up his church like Francis is doing in Rome. Russian Orthodoxy is wealthy and that gives it influence over the other orthodox branches, and it is vigorous after 70 years of Communist suppression.
For the Cubans and President Raoul Castro hosting the meeting earned them diplomatic points and helped contribute to the island's rebranding, coming back onto the international stage.
However the meeting has not filled everyone with the holy spirit, and it has provided social media with a rich vein of pictures to mine.