Warm welcome for Pope Francis as he kicks off Mexico visit
Comments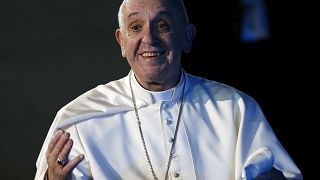 Thousands have Mexicans have lined the streets to welcome Pope Francis, as he kicked off a five-day visit to the country.
His trip will include a stop in the northern border town of Juarez to meet prisoners.
The pontiff's arrival comes after an historic meeting in Cuba with Russian Orthodox Patriarch Kirill.
"I felt like I had a brother facing me, and he said the same to me," said Francis, reflecting on the meeting.
"Two religious leaders talking about the situation of their churches and of the situation in the world, of the wars."
In a Vatican message ahead of his arrival in Mexico, Pope Francis said he was denouncing corruption, violence and drug trafficking in the country.
He also told Mexicans that he will use his visit to pray with them, for what he describes as "the gift of peace."