Protests in Bahrain in run up to Arab Spring anniversary
Comments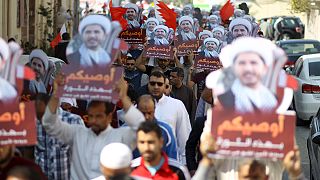 Police in Bahrain have been quick to quell protests in Sitra, south of the capital Manama.
Authorities fear demonstrations across the kingdom in the run-up to the fifth anniversary of the Arab Spring on Sunday.
Pictures from the mass protests in Duraz, west of Manama, this afternoon
JUSTICE. DEMOCRACY. EQUALITY#BAHRAINpic.twitter.com/ngVruKQd4q

— AlwefaqEN (@AlWefaqEN) February 12, 2016
In 2011 Bahrain's Shi'ite majority staged huge marches against the Sunni rulers, inspired events in Tunisia and Egypt.
The government requested security assistance from Saudi Arabia to halt the protests.
A severe government crackdown since 2011 has resulted in an uneasy calm.
One protester made it clear the protests will continue:"After five years, we remain steadfast, and the proof is that the streets are still full of youths and resistance."
In January clashes broke out again after Saudia Arabia executed
prominant Shi'ite cleric Sheikh Nimr al-Nimr, a severe critic of the regime in Bahrain.
Saudi, Bahrain Mark Thousands Protesting for Sheikh al-Nimrhttps://t.co/TmvYMaOO1vpic.twitter.com/undAlK0GO2

— Il Faro sul Mondo (@IlFarosulMondo) February 12, 2016