Egyptian doctors protest against alleged police abuse
Comments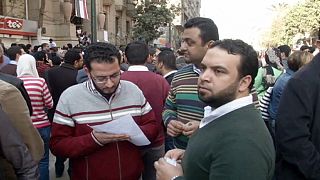 Thousands of Egypt's doctors staged a rare protest in Cairo on Friday (February 12), against police abuses after accusations two doctors were beaten up by policemen in a Cairo hospital.
At the headquarters of the doctors' union, known as the Egyptian Medical Syndicate, doctors threatened strike action if the police are not held accountable for abuses.
Such public protests are rare under Egypt's President Abdel-Fattah al-Sisi.
Following the ouster of his Islamist predecessor, voices of dissent were silenced and thousands of Islamists and activists were jailed.
The demonstration came in response to last month's assault on two doctors in Cairo's Matariya hospital, where one police officer pulled out a gun and others violently forced two doctors into a vehicle before driving them to a police station.
APTN