Austria calls on FYRM to close borders to migrants
Comments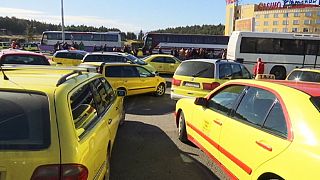 Taxi drivers in the Former Yugoslav Republic of Macedonia, are protesting at being cut out of the lucrative migrant trade after the government erected a train platform alongside a makeshift refugee camp.
Some board train to #Tabanovce passing checks, others arrive by foot Macedonian borderchecks <a href="https://twitter.com/hashtag/gevgelija?src=hash">#gevgelija</a> <a href="https://twitter.com/hashtag/refugees?src=hash">#refugees</a> <a href="https://t.co/F3AP3hikHk">pic.twitter.com/F3AP3hikHk</a></p>&mdash; Nisa (Ennetje_Bee) February 11, 2016
The move has killed the business of transporting migrants to Serbia.
Filip Trajanov is a striking driver:"The refugees are coming but we don't work. Trains work and they go everyday, two, three times a day that's why we are striking here."
#Taxidrivers close #Gevgelija#bordercrossing for a few hours https://t.co/q2abheT0eSpic.twitter.com/u0X0h5uhpy

— Republika English (@RepublikaEnglis) February 11, 2016
As the migrant crisis continues to test EU statutes Europe's doors are closing.
Austria has requested Skopje to stop the flow of migrants across its borders with Greece and said Austria would also tighten frontiers.
The Austrian Foreign Minister Sebastian Kurz on a visit to Skopje said:
"Austria, Germany and Sweden, the countries most popular with migrants, are together on this. Sweden has taken similar measures and these measures will have consequences for the whole region. but most of all for the countries along the route: Slovenia, Croatia, Serbia and the Former Yugoslav Republic of Macedonia."
This is the double fence at the #Idomeni – #gevgelija border. Double Fortress Europe! #migrantcrisis#refugeesgrpic.twitter.com/6A27QClDBc

— Kostas Kallergis (@KallergisK) February 10, 2016
Fear grips the migrants crossing the border; terrified that at any moment the Europe's shutters will come rattling down.