Nigeria: suicide bomber turns herself in after recognising relatives among potential victims
Comments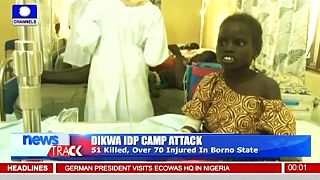 Her parents are in the camp, that is why she refused to detonate her own bomb
More details have emerged about a suicide bomb attack on a refugee camp in north-eastern Nigeria.
Earlier this week, two female suicide bombers killed more than 60 at a camp in Borno state.
A double female suicide bomb attack on Tuesday in the town #Dikwa, #Nigeria, left at least 56 dead and 78 injured. https://t.co/k5fjKmzn42

— reported.ly (@reportedly) February 10, 2016
30 killed, 78 injured in suicide attack on Borno IDPs camp https://t.co/0cCrhUgPwDpic.twitter.com/S5wE1l15bv

— The Punch Newspapers (@MobilePunch) February 10, 2016
It houses people fleeing the insurgency by Boko Haram extremists in the northeastern town of Dikwa.
News of the attack filtered through slowly due to poor communications in the region.
Third bomber "recognised family"
Officials say a third female kamikaze refused to detonate her device when she realized that her parents and siblings were in the camp.
They say she turned herself in and warned of further attacks planned in the region.
Dozens injured
Officials say 78 people were injured in the attack.
So far, no group has admitted being behind the attack.
However, it bears all the hallmarks of Boko Haram.
The group has frequently used women and even children to hit its targets.