Ukraine: four dead as bus trips mine in divided Donetsk
Comments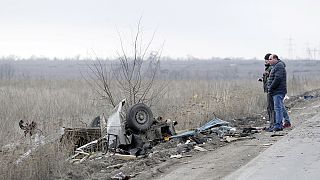 At least four people have been killed after a bus drove over a mine in the Donetsk region of eastern Ukraine.
Bus tripped a mine at Ukrainian checkpoint – 3 persons died • DONi Press – Donetsk International Press Center https://t.co/I24GE2HkIu

— krstae (@krstae) February 10, 2016
Reports from the locality suggest the driver tried to manoeuvre around a checkpoint and drove into a field detonating the explosive.
Nineteen others have been injured.
The disputed and divided area controlled by both pro-Russian separatists and the Ukrainian government is littered with checkpoints and ordnance.
One mother spoke of the daily drudgery:
"It's scary, because we are afraid not only to go to the side of the road, but even step out onto the tarmac. The queues are terrible, it's unbearable. Before we could skip the queue with the child, but now we have to wait for kilometres, dozens of kilometres, at a standstill."
The battle for control of Donetsk continues with sporadic clashes between government forces and pro-Moscow militia.
The epicentre of the fighting is around the Donetsk airport.
A Ukranian platoon commander described the exchanges:"You hear how quiet it is now when the shooting stops. Before they were shooting at us from 300 metres wIth automatic weapons."
Since the conflict broke out in November 214 more than 9,000 people have been killed.