Somali plane suicide bomber meant to be on different flight
Comments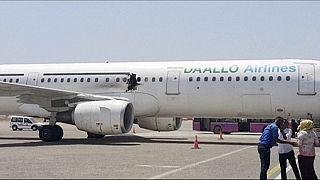 A suspected suicide bomber who blew a hole in the fuselage of a Daallo Airlines plane last week, was meant to be on a different flight.
Daallo Airlines Chief Executive Mohammed Ibrahim Yassin said most of the passengers who were on the bombed flight were scheduled to fly with Turkish Airlines, but were flown to Djibouti by one of his planes after the Turkish carrier cancelled its flight.
The bomber was sucked out of the plane through the one-metre wide hole and the pilot forced to make an emergency landing in the Somalian capital Mogadishu.
No group has so far taken responsibility for the attack, but the US suspects the Islamist group al Shabaab which is allied to al Qaeda may have been responsible.